YOU ARE ONE OF US NOW
The Goodbunnies live in a society where everything is in order, and everyone is perfect, or they are supposed to be. Some people happily follow the crowd, while plenty struggle and get destroyed in the process. And then there are also those who refuse to comply and fight back. Which one are you?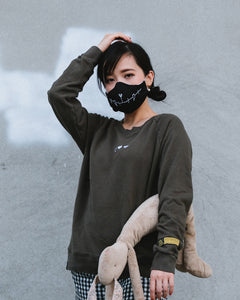 NEW | "Three Lives" Raglan Sweatshirt
How many lives are you living in one lifetime?
From the "No Good" collection, the Three Lives Sweater is your new fall staple. Featuring a raglan sleeves design with embroidered details, the shirt drapes nicely along the shoulders, ensuring a perfect fit for every body type.
Shop
NEW | "Half Empty" Convention Tee
"Half Empty...at least I'm sweet & fluffy."
Our popular Half Empty print is back! Originally a convention exclusive item, we decided to bring this tee online for a limited time. We can't wait to meet you in person again, but until then, we have this shirt to tie us together 🖤
SHOP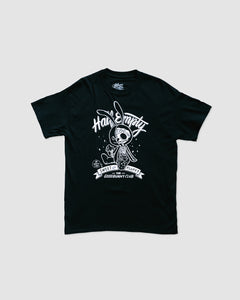 About Alice Yuen
Identities and social conformity are two major themes in Alice's work. She is fascinated by the idea of self in both philosophical and psychological aspects. She creates worlds between reality and fantasies for her characters, where they desperately strive to fit in. Her work seems to be innocent at first sight, follows with a gentle twist of dark humor and a sense of forlornness.
Blog
On my last blog, we talked about the conceptualizing process of "Childhood Wasteland."  I also mentioned that we almost had to cancel everything!  Let me tell you what happened. ACCIDENT, DELAYS, RAIN As some...
See how we wear it on Instagram! (@thegoodbunnyclub)